Most Members of "Team Full Tilt" Expected at World Series of Poker
Published on May 29th, 2011 4:19 pm EST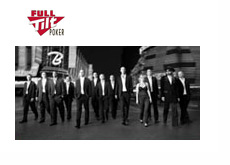 With Full Tilt Poker still not paying out their US players, many people have been speculating as to which members of "Team Full Tilt" will end up attending the 2011 World Series of Poker (which starts in just a few days).
Will Howard Lederer show up? How about Phil Ivey? Chris "Jesus" Ferguson? With people growing increasingly angry over the Full Tilt Poker payout situation, many people have come to the conclusion that at least some of the members of "Team Full Tilt" will end up taking a pass this year..
Most of the members of "Team Full Tilt" are planning on playing in this year's World Series of Poker. Let's run down the list:
Tom "durrrr" Dwan
- said this in a recent Twitter posting:
"@Mosha92: @Tom_Dwan will you be attending the @WSOP main event?" Lol, yes
--
Phil Ivey
- Barry Greenstein, Phil Ivey's good friend, spent more than half of his budget on Phil Ivey in the $25k buy-in WSOP Fantasy Auction Draft. Greenstein obviously wouldn't have done this if there was any doubt in his mind that Ivey would be participating this year.
--
Howard Lederer - is in Vegas right now.
There are rumors abound today
that Full Tilt Poker will be making an announcement tomorrow regarding US cashouts. What kind of "news" that is contained in the announcement (if there is one) will likely have a big factor on if Lederer turns out for any events or not. If it's just more of the same ("we hope to have some news in the future"), then I have a hard time seeing Howard coming out for any events, but who knows..
--
John Juanda - from a recent Twitter posting:
"Again, I plan on playing fewer events at this year's WSOP than I've in the past. So keep that in mind when doing ur fantasy pool."
--
Jennifer Harman - she participated in the WSOP Fantasy Auction Draft and recently hosted a charity poker tournament for the Nevada SPCA. She's playing.
--
Phil Gordon - can't see him missing the event..
--
Erick Lindgren - will be there. Played the WPT Championship last week.
--
Erik Seidel
- same as Lindgren - played the WPT Championship and has already announced via his Twitter account that he will be playing.
--
Andy Bloch - is expected to play.
--
Mike Matusow
- is playing. From his Twitter account:
"what a joke been up 28 hrs cant sleep after sleeping 17 got alarm set at 11 am have to get on perfect schedule for wsop"
--
Patrik Antonius
- according to Daniel Negreanu's
most recent blog post
:
"..Antonius 'might' come out for the main event"
Antonius' participation in this year's WSOP seems to be up in the air at this point..
--
Allen Cunningham - he played in the $25k WPT Championship and is planning on being at the World Series of Poker.
--
Chris "Jesus" Ferguson - no idea. As with Lederer, will very likely depend on if there is any positive news regarding the US payout situation on Full Tilt Poker.
--
Gus Hansen - I'm sure that Hansen will be there.. Gus is not an active Twitter participant, so his participation hasn't been confirmed as of yet. I don't see any reason why he wouldn't attend though..
--
The only real question marks at this point seem to be Howard Lederer, Chris Ferguson and Patrik Antonius.
--
Filed Under:
The World Series of Poker