No "Specific Timeframe" For US Player Payouts
Published on May 30th, 2011 9:03 pm EST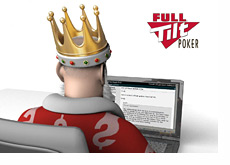 Many people were expecting that Full Tilt Poker was going to drop some positive news this week regarding the status of payouts to US players. There were rumors of upcoming positive news releases floating around. After it was announced that one of Full Tilt Poker's Irish bank accounts had been unfrozen by the DoJ, Tony G took to his Twitter account to proclaim that US players now had a 99.5% chance of being paid out.
With the World Series of Poker getting started tomorrow and a number of people seemingly "in the know" stating that good news would be coming soon, it seemed as though the situation regarding Full Tilt Poker and cashouts to US players would finally be taking a turn for the better.
Earlier today, an official update from Full Tilt Poker was posted on 2+2. I have included a link to the full statement below.
The important pieces of information from the newest release:
-Full Tilt Poker still has no "specific timeframe" as to when US players will be receiving their money
-Full Tilt Poker is not, according to the update, "bankrupt". According to the statement, their worldwide business is "healthy" and is now operating as "normal"
-Full Tilt has now publicly acknowledged that they are "raising capital to ensure that the US players are paid out in full as quickly as possible"
-Full Tilt says that their Full Tilt Pros are remaining silent because they are "constrained by the pending legal actions"
--
This latest "update" from Full Tilt Poker has been particularly stinging because many people figured that positive news was just around the corner.
According to Pokerscout.com
, Full Tilt Poker's traffic has dropped more than 5% for three consecutive weeks. It will be interesting to see how their traffic holds up after this most recent release..
Source: 2+2 -
Full Tilt Poker 05/30 Statement
--
Filed Under:
Online Poker Rooms
|
UIGEA
|
Poker Legal Issues