Full Tilt Poker Continues To Lose Traffic
Published on June 8th, 2011 12:34 am EST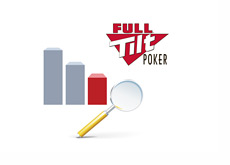 Pokerscout.com released the latest edition of their "Weekly Online Poker Traffic Update" yesterday.
Many people were keeping a close eye on Full Tilt's traffic numbers this week, as Phil Ivey's lawsuit against the company was launched about a week ago.
What would be the impact on Full Tilt's traffic after the face of their company launched a $150 million lawsuit against them?
According to Pokerscout.com, Full Tilt's traffic seemed to hold up relatively well over the past week. After posting three consecutive weeks of 5% drops in traffic, Full Tilt Poker saw their traffic dip 3% this past week. Sure, another drop in traffic is nothing to crow about, but many people (myself included) were expecting a much bigger drop in traffic after Phil Ivey sued the company.
--
All three of the major networks that were negatively impacted by "Black Friday" (Pokerstars, Full Tilt Poker and Cereus) have suffered from a dramatic drop in traffic thanks to the exclusion of US-based players from real money play.
Here is a look at their traffic numbers from "Black Friday" until present day:
Pokerstars, -28%
Full Tilt Poker, -52%
Cereus, -96%
According to Pokerscout.com, Pokerstars has experienced a 4% drop in traffic since April 26th, which is the day that they started paying back their US players. Full Tilt Poker and Cereus, which have been unable to return funds to their US players so far, have suffered traffic drops of 23% and 89% respectively since April 26th.
Pokerstars has stabilized their operation since "Black Friday", while both Full Tilt and Cereus are still in turmoil. Cereus is a corpse at this point (there is no way that they ever recover from a 96% drop in traffic), while Full Tilt Poker is fighting to right their ship and survive.
Source: Pokerscout.com -
Weekly Online Poker Traffic Update
--
Filed Under:
Online Poker Rooms