Phil Hellmuth Finishes Second in $10k 2-7 Draw Lowball Championship
Published on June 12th, 2011 12:51 pm EST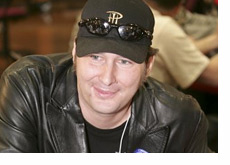 For a good portion of the $10k 2-7 Draw Lowball Championship final table, Phil Hellmuth was loving life. "The Poker Brat" was smiling, cracking jokes and seemingly winning every major pot. It seemed as though Hellmuth was going to steamroll his competition en route to his 12th World Series of Poker bracelet.
Unfortunately for Hellmuth, John Juanda had other ideas.
Hellmuth entered heads-up play with a sizable 3-1 chip advantage, but his lead didn't last long. Juanda quickly turned the momentum in his favor, winning a number of large pots in a row that propelled him to the chip lead. Hellmuth was able to draw even, but Juanda soon took over again and won the tournament about an hour later. Hellmuth's dreams of capturing his 12th World Series of Poker bracelet would have to wait for another day.
For John Juanda, this is his fifth World Series of Poker bracelet. His other bracelets:
2002 - $1,500 Triple Draw Lowball Ace to Five, $49,620
2003 - $2,500 Seven Card Stud Hi-Lo Split, $130,200
2003 - $2,500 Pot Limit Omaha, $203,840
2008 - WSOPE Main Event, $1,539,250
--
Each and every one of Phil Hellmuth's 11 World Series of Poker bracelets have come in Hold'em events, so you know that he REALLY wanted to win the $10k 2-7 Draw Lowball bracelet last night.
Phil wasn't happy after the event - here is what he had to say on Twitter:
"Strange thing: I finished in 2nd place & Won $270,000, but I feel cmpletly awful + i am unconsolable...Congrats 2 the great @luckboxjuanda"
John Juanda, on the other hand, was understandably happy:
"Just won my 5th WSOP bracelet in 2/7 NL (10K buyin). Every time u win 1 of these the feeling is surreal! Thx all 4 the support!:-)))"
John Juanda ended up collecting $367,170 for his victory, while Phil Hellmuth walked away with $226,907.
Photo: GreasieWheels.com
--
Filed Under:
The World Series of Poker