LA Times: Full Tilt Poker To Be Sold to European Investors
Published on June 30th, 2011 10:08 pm EST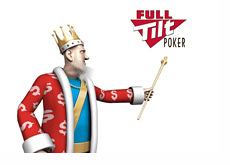 According to the Los Angeles Times, a deal was reached on Thursday to sell Full Tilt Poker to European investors.
According to the article, "attorneys associated with Full Tilt said the company signed an agreement Thursday with a group of investors who would put up enough money to pay back players and in doing so attain a majority stake in Full Tilt's Irish parent company, Pocket Kings".
Also - "The money is also intended to allow the company to settle a civil lawsuit brought against it by the U.S. attorney's office at the same time as the criminal indictment, the attorneys said."
In addition, Phil Ivey is reportedly withdrawing his lawsuit against the company. It's pretty safe to assume that he will be playing in the $50k Poker Player's Championship that starts on July 2nd.
There is no word as of yet as to the identity of the European investors. There is also no word as to if this deal means that Full Tilt's AGCC license will be re-instated.
We'll update this page as we find out more.
Edit: From Matthew Parvis' (Editor-in-Chief of Pokernews.com) Twitter feed:
"I've received info from a reliable source that the LA Times story about the FTP sale is accurate."
"Deal was allegedly suppose to go down next week, but was fast tracked..."
Calvinayre.com is reporting that bwin.party
offered $185 million to buy Full Tilt outright but pulled out after FTP lost their license. No word on if bwin.party reconsidered or if another group of investors stepped in to take their place. (if the CalvinAyre.com story is true, of course)
Source: LATimes.com -
Full Tilt Poker to be sold to European Investors
--
Filed Under:
Online Poker Rooms