Combined Day 1a and 1b Entrants For Main Event Down 28% From Last Year
Published on July 8th, 2011 11:48 pm EST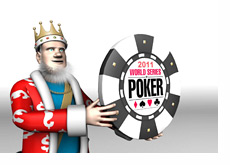 Registration for Day 1b of the 2011 World Series of Series Poker main event has now closed, with a total of 985 players deciding to try their luck on Day 1b this year.
Here are the entrant numbers through the first two days of this year's main event:
Day 1a - 897
Day 1b - 985
Compare this to last year's numbers:
Day 1a - 1,125
Day 1b - 1,489
This year's Day 1a and 1b fields combined for a total of 1,882 players, which is down considerably (28%) from last year's total of 2,614.
--
Last year's World Series of Poker main event had a total field size of 7,319 players, which was the second highest total in the history of the event (the 2006 main event had a total of 8,773 players).
Similar to last year, you can expect that Day 1c and Day 1d will be much busier than the first two days of the main event.
Many people were predicting that this year's main event would end up with between 5,000-5,500 entrants, thanks to the dampening effect of "Black Friday". It remains to be seen if the final number will end up falling within this range.
Expect very big turnouts on both Saturday and Sunday, and don't be surprised if the main event ends up finishing with close to 6,000 entrants.
--
Filed Under:
The World Series of Poker