6,865 Players Turn Out for 2011 World Series of Poker Main Event
Published on July 10th, 2011 11:40 pm EST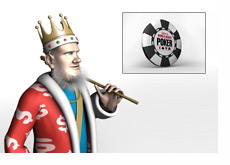 The final numbers are now in - this year's 2011 World Series of Poker main event managed to attract 6,865 players from all across the world.
The 6,865 player field ended up creating a total prize pool of $64,531,000. The top 693 spots will pay out a minimum of $19,359.
The eventual winner of this year's main event will take home $8,711,956, as well as the coveted WSOP main event bracelet. Here is how the final table payouts will look this year:
1st - $8,711,956
2nd - $5,430,928
3rd - $4,019,635
4th - $3,011,661
5th - $2,268,909
6th - $1,720,396
7th - $1,313,851
8th - $1,009,910
9th - $782,115
The turnouts for the four Day 1 flights this year looked like this:
Day 1a - 897
Day 1b - 985
Day 1c - 2,181
Day 1d - 2,802
--
The 6,865 player turnout means that this year's main event will be the third largest in the history of the World Series of Poker. Only the 2006 and 2010 main events (8,773 and 7,319 players respectively) had larger turnouts.
When "Black Friday" took place in mid-April, there were not too many people who were predicting that this year's main event would end up with nearly 7,000 players. In fact, many were predicting that the main event would end up with as little as 3,000-4,000 entrants.
Given everything that has taken place in the industry over the past couple of months, the turnout for this year's World Series of Poker was nothing short of remarkable..
--
Filed Under:
The World Series of Poker