Party Poker Now The Second Largest Online Poker Room in the World
Published on July 13th, 2011 1:38 am EST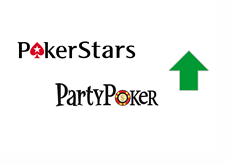 On June 29th, the AGCC (Alderney Gambling Control Commission) suspended Full Tilt Poker's licenses. The plug was pulled on Full Tilt Poker a short time later, and the site has been down ever since. According to various sources, Full Tilt Poker is currently negotiating with a "group of European investors". The European investors have exclusive bargaining rights up until July 21st, and they are presumably utilizing this window of time by conducting due diligence on FTP, as well as keeping an eye on the status of Full Tilt Poker's ongoing discussions with the DoJ and AGCC.
The online poker landscape has changed a great deal since June 29th. Before the plug was pulled (at least temporarily) on Full Tilt Poker, the site was the second largest in the world, behind only Pokerstars. Shuttered doors at Full Tilt Poker meant that the site's players had to go elsewhere in order to get their fix. Where did these players go?
According to Pokerscout.com, Pokerstars has picked up the most number of players since June 29th. According to Pokerscout, Pokerstars has picked up 3,382 new players since Full Tilt Poker shut their doors.
Party Poker has also done very well since June 29th, as they have seen their traffic jump 35% (+1,246 players). Party Poker recently introduced Rake Free Tournaments, which has also surely helped to boost their numbers.
Since June 29th, the three networks that have gained the most traffic in terms of total players:
Pokerstars, +3,382
Party Poker, +1,246
iPoker Network, +835
The three networks that have gained the most traffic in terms of total percentage change:
Everest Poker, +46%
Cake Poker Network, +40%
Party Poker, +35%
--
Will Full Tilt Poker be able to sign a deal with the European investors by July 21st? Will the company be able to resurrect itself?
Full Tilt Poker's competition, including the likes of Pokerstars and Party Poker, is hoping that the answer to both questions is "no".
Source:
Pokerscout.com
--
Filed Under:
Online Poker Rooms