Full Tilt Poker Hearing Adjourned To Allow FTP To Continue Negotiations
Published on July 26th, 2011 10:35 pm EST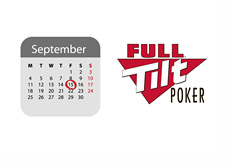 Surprise! Players with funds locked up on Full Tilt Poker are going to have to wait even longer to find out whether or not they will ever be able to retrieve their money from the beleaguered site.
The AGCC (Alderney Gambling Control Commission) elected to adjourn the Full Tilt Poker hearing until "September 15th at the latest" in order to give Full Tilt Poker more time to continue negotiations with investors. Lead AGCC commissioner Isabel Picornel informed those in attendance that the decision to adjourn the meeting was in the "best interests of the customers of Full Tilt."
Approximately 150 people (of which 1/3rd were media) attended the meeting. Despite being informed that the hearing would be held in public in order to maintain as much transparency as possible, it was soon announced that the remainder of the hearing would be held behind closed doors. This announcement obviously brought forth a negative reaction from those who had decided to attend the hearing.
Full Tilt's lawyers asked for a private meeting because "sensitive commercial information" was going to be revealed, and they didn't want to jeopardize ongoing negotiations. Full Tilt's lawyers got their way and requested a continuance in private. The request for a continuance was eventually granted by the end of the proceedings.
It was also revealed at today's hearing that Full Tilt Poker apparently owes the AGCC over 250k pounds in licensing fees. Full Tilt Poker's representatives at the hearing stated that the company could pay the owed money within 7 days, but only if it meant that the AGCC would consider reinstating Full Tilt's license, and only if the hearing could be adjourned and later held "in camera" (in private).
--
What does today's meeting mean for Full Tilt Poker's customers?
The answer? More waiting, as well as a healthy dose of agonizing over rumors and "leaks".
--
Between now and the next AGCC hearing, Full Tilt Poker will have to cope with zero revenues and an increasingly tarnished brand (the word "tarnished" isn't even applicable at this point - more like "completely trashed").
Today didn't really change much - the fate of Full Tilt Poker (and player balances) is still in the hands of unnamed European investors who are still (apparently) conducting due diligence on the company.
After the "excitement" of today's hearing, the online poker community is back to waiting and hoping.
--
Filed Under:
Online Poker Rooms