Matusow Talks Ivey, Lederer and Bitar
Published on July 31st, 2011 10:47 pm EST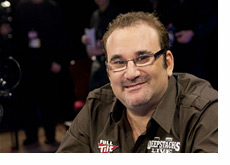 Over the past few days, Mike Matusow has logged a large number of hours being interviewed by the people behind Quadjacks.com.
Matusow conducted a lengthy interview with Quadjacks.com yesterday, where he was asked about a number of different topics. Matusow was also joined by Daniel Negreanu and Tony G on the show.
As mentioned, the interview was a long one (I included a link below), but here is some of the interesting tidbits of information and personal opinions that Matusow shared on the show:
-person who leaked information to Subject: Poker has it in for Ivey, David Benyamine and FTP
-info leaked from somebody "inside"
-"definitely a disgruntled employee"
-Ivey lawsuit was a "big crock of shit"
-"nobody (from Full Tilt Poker) will call me back"
-Matusow wants to know "anything" about what is going on at Full Tilt
-leaker hurt chances of FTP players getting their $ back
-"if it weren't for greed, sale of the company would have been done a long time ago"
-somebody offered to buy a piece of FTP right away after "Black Friday" for "good money", was turned down
-"now they're struggling to get shit for it"
-Ivey went berserk when that deal fell through
-higher-ups at Full Tilt rebuffed the buyer, claiming that they had another deal lined up
-"I believe that Ray (Bitar) fucked everything up"
-Bitar's ego was so big.. he never listened to anything
-Full Tilt Poker could have paid off 90% of US players after "Black Friday"
-Matusow has a quarter million dollars on Full Tilt
-Tom Dwan has a million dollars on Full Tilt
-Daniel Cates has six million on Full Tilt
-FTP was spending "something like $15 million a month" in marketing to compete with Pokerstars
-Annie Duke: "Howard is sitting at home, depressed over the whole situation"
-hard for Howard to talk to anybody because he is so depressed
-Howard's only fault was putting the wrong guy in charge
-Ivey didn't think when he sued the company
-Ivey working around the clock to try and fix things.. so is Howard
-Matusow: I got a pretty good offer from a site in Europe
-"I think that people are going to get paid back"
-Full Tilt Poker opened up with no money in the accounts
-"there is no way that Howard Lederer took anybody's money"
-"I believe by next Friday that something will come out"
-"Full Tilt Poker ain't closing shop"
-"they are not the type of people that are going to run"
--
Matusow had plenty more to say, click on the link below to listen to the entire interview.
Source: Quadjacks.com -
Part 2 Daniel Negreanu and Mike Matusow talk about the Epic Poker League and Full Tilt Poker Situation
Photo: GreasieWheels.com
--
Filed Under:
Online Poker Rooms