Entire "International Department" Reportedly Laid Off
Published on August 9th, 2011 1:32 am EST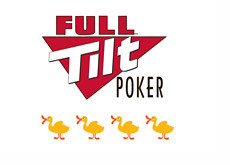 Multiple reports have surfaced over the past couple of days that claim that Full Tilt Poker has laid off a number of their workers.
Wicked Chops (link below) came out with a report yesterday that said that Full Tilt Poker had laid off "some of their US-based employees".
Earlier today, Nahuel Ponce of ESPNdeportes.com posted on his Twitter account that Full Tilt Poker had suspended all the activities of their International department (thanks to the people who pointed me to this Tweet).
Last I heard, the large majority of the staff at Pocket Kings in Ireland were still on the payroll. I've also heard that they know about as much as we know - only that the future of the company will very likely be decided by September 15th.
--
Over the past couple of days, Full Tilt Poker has renewed their secondary license with the KGC, paid off their overdue licensing fees to the AGCC and reportedly laid off their International department. You could make the case that Full Tilt is getting their ducks in a row in anticipation of a sale, but that's just pure speculation at this point.
Source:
Wicked Chops Poker
Source:
Nahuel Ponce Twitter Post
--
Filed Under:
Online Poker Rooms