Eric Molina Finishes Second in Preliminary Festa al Lago Event
Published on October 11th, 2011 10:48 pm EST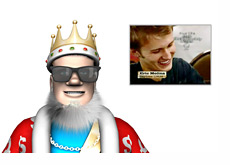 Remember Eric Molina?
Molina was the cocky and brash player who pissed off practically the entire field in the 2006 World Series of Poker. Molina ended up finishing in 31st place in that event, taking home just under $330k for his efforts.
Molina seemingly disappeared after his run at the '06 World Series of Poker. That was his one and only cash - at least until he resurfaced at the 2011 Festa al Lago Classic earlier this week.
Molina finished in second place in Event #13 ($1k NLHE), which was good for $31,156.
Was a more mature Eric Molina on display at the Festa al Lago? Hardly. Molina was apparently pounding drinks and acting as belligerent as ever during the event.
The poker world has changed dramatically since the 2006 World Series of Poker, but Eric Molina is apparently the same loveable player that he was back then.
--
Here are a few clips of Eric Molina from the '06 World Series of Poker if you needed a reminder:
--
Filed Under:
Other Poker News