Fertitta Brothers-Led Group Reportedly Purchases Cyberarts
Published on October 26th, 2011 2:43 am EST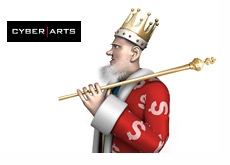 According to an exclusive report on EGR Magazine (link below), a group backed by the Fertitta brothers, Tom Breitling and Tim Poster, "Fertitta Interactive", has purchased online gaming software provider Cyberarts for an "undisclosed sum".
The Fertitta brothers (Frank Fertitta III, Lorenzo Fertitta) are the majority owners of the UFC (Ultimate Fighting Championship) and also own roughly 45% of Station Casinos Inc., which was founded by their father back in 1976. Tom Breitling and Tim Poster purchased the Golden Nugget properties together in 2003 for $215 million, and eventually sold the company for $340 million in September of 2005.
Fertitta Interactive, which is the group that was formed by the Fertitta brothers, Breitling and Poster, originally had their sights set on Full Tilt Poker. Fertitta Interactive actually entered into a partnership with Full Tilt Poker mere weeks before "Black Friday" took place on April 15th of this year. The planned partnership was later dissolved after "Black Friday" took place.
At the time, Tom Breitling had this to say:
"We are firm believers in regulation and think that the time is now for online poker to be legalized, taxed and regulated."
According to their website, Cyberarts "offers online and land-based operators a technically advanced gaming software solution based upon the unique and scalable Foundation universal gaming platform."
Here is where it gets interesting:
"Foundation supports a range of business models and needs. Land-based operators can offer free online play as part of their acquisition and retention strategy; online operators can leverage their free player base with virtual goods sales. Foundation's Facebook, Orkut, Hi5 and other social network integrations add the community features players seek. Rake, subscription, advergaming and virtual good revenue models are also supported."
--
The pieces are seemingly falling into place for online gambling legislation in the United States. With powerful groups such as Fertitta Interactive and Caesars Entertainment Corp. throwing their hats into the online gambling ring, legislation can not be far behind. Money talks.
Source:
EGR Magazine
--
Filed Under:
Other Poker News