Companies Continue to Ink Deals Ahead of Expected Federal Online Gambling Legislation
Published on October 31st, 2011 4:49 pm EST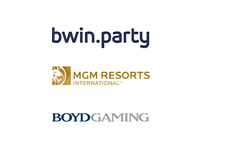 MGM Resorts International and Boyd Gaming announced earlier today that they are joining Bwin.party (home of Party Poker) to create a company should online gambling legislation pass in the United States.
MGM CEO Jim Murren said that the deal between the three companies is an "anticipatory" move "should online gambling be legalized" in the United States.
According to Marketwatch.com, the ownership of the company would be split like this: 65% bwin.party, 25% MGM, Boyd 10%. Start-up and operating costs would be split based on the size of the ownership stake in the company.
According to Murren, the Bwin.party/MGM/Boyd company would "offer games under Bwin brands like PartyPoker", but MGM would also be "very interested" in using Bwin.party's technology to operate sites under brands such as Bellagio and Mandalay Bay.
--
So, in just the past few weeks,
Fertitta Interactive has purchased an online gaming software firm
,
Donald Trump and Avenue Capital Group have announced their intentions
to form an online gaming venture and Bwin.party has inked a deal with MGM Resorts/Boyd Gaming.
You can think whatever you want about the likelihood of online gambling legislation being passed into law in the United States, but the big money is clearly banking on it happening, and that's all that matters. Money talks, especially in Washington.
Source:
MGM, Boyd Strike Deal with Online Poker Giant
--
Filed Under:
Online Poker Rooms
|
UIGEA