World Series of Poker Main Event Restarts This Sunday
Published on November 5th, 2011 1:20 am EST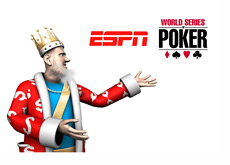 In less than 48 hours, the 2011 World Series of Poker Main Event will restart in Las Vegas.
The event will resume at 11:30 am (local time) on Sunday morning inside of the Penn and Teller Theatre at the Rio. This is when the festivities will officially get underway - the first hand of the final table is expected to be dealt at around 12:30 pm.
Play will continue on Sunday until there are just three players left. After that, there will be a one day recess, with the final day of play getting underway at 6 pm on Tuesday evening.
Coverage on ESPN2 and ESPN begins at 12:30 pm on Sunday afternoon. Every single hand of the final table will be aired, with player hole cards being shown for the very first time in a "semi-live" format (15 minute delay to comply with gaming rules). On Tuesday, the action will switch over to ESPN and ESPN3, where all of three-handed play will be shown in its entirety in the same "semi-live" format.
--
6,865 players all started with the same dream of winning the World Series of Poker main event this year, and now just nine remain. The eventual winner of the main event will take home $8,715,638 and the coveted World Series of Poker main event bracelet.
In a sign of poker's growing popularity throughout the world, seven different countries will be represented at the final table. Belize, Czech Republic, Germany, Great Britain, Ireland, Ukraine and the United States will all be represented when the action resumes on Sunday afternoon.
Here are the current chip stacks:
Martin Staszko - 40,175,000
Eoghan O'Dea - 33,925,000
Matt Giannetti - 24,750,000
Phil Collins - 23,875,000
Ben Lamb - 20,875,000
Badih Bounahra - 19,700,000
Plus Heinz - 16,425,000
Anton Makiievskyi - 13,825,000
Sam Holden - 12,375,000
The oldest final table participant is Badih Bounahra (49), while the youngest is Anton Makiievskyi (21).
--
Here are the current final table betting odds, courtesy of Bodog:
Martin Staszko - 4/1
Ben Lamb - 9/2
Eoghan O'Dea - 9/2
Phil Collins - 11/2
Matt Giannetti - 6/1
Badih Bounahra - 9/1
Plus Heinz - 9/1
Anton Makiievskyi - 11/1
Samuel Holden - 12/1
--
Filed Under:
The World Series of Poker