Finalized Agreement Between GBT and DoJ Coming This Week?
Published on November 13th, 2011 3:01 am EST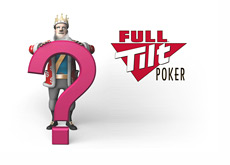 In early November, Laurent Tapie confirmed that a "tentative agreement" between Groupe Bernard Tapie and the US Department of Justice had been reached.
At the time, Tapie revealed that a "final agreement" was being finalized and "should be signed in the next 15 days". Tapie's lawyer revealed that GBT and the DoJ had come to an oral agreement that was "in the process of being reduced to writing". Full Tilt Poker attorney would later claim that there were still some issues to be resolved.
Tapie made these comments on November 2nd, meaning that he was hoping to have a finalized agreement in place by November 17th (Thursday). Tapie has publicly stated that he hopes to have Full Tilt Poker back up and running by January of 2012. Given the amount of work that will have to be done before a successful relaunch of the site takes place, you would think that Groupe Bernard Tapie would like to have a signed deal in place before the start of December.
--
If and when a final agreement is announced, the real work will then begin.
Groupe Bernard Tapie will have to deal with a raft of different issues before Full Tilt Poker can be relaunched, including:
1. Figuring out the true balances of all players.
2. Acquiring a license.
3. Figuring out a marketing plan.
4. Figuring out which sponsored pros will be kept/cut.
5. Setting up/restoring payment processing agreements.
6. Co-ordinating with the DoJ to facilitate payouts to US players.
The list goes on and on - GBT certainly has plenty of work to do before Full Tilt Poker can open its doors once again.
First though, Groupe Bernard Tapie has to finalize their deal with the DoJ. Hopefully we hear some news on that front in the coming days..
--
Filed Under:
Online Poker Rooms
|
UIGEA