"ElkY" vs Veldhuis Set To Duke it Out on November 22nd
Published on November 15th, 2011 1:04 am EST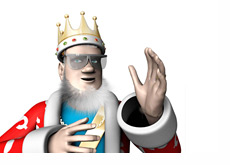 Bernard "ElkY" Grospellier vs Lex "RasZi" Veldhuis - who ya got?
On November 22nd, "ElkY" and Lex Veldhuis will finally square off in a five round kickboxing match in Marbella, Spain.
As you can imagine, the two poker players both have quite a bit of money riding on the outcome, so they are both taking the fight very seriously.
The genesis of the fight came back in 2009, when a drunken "ElkY" proclaimed that he could take Veldhuis in a fight. The two friends decided to turn it into a prop bet, and the fight was on.
After a couple of delays, "ElkY" and Veldhuis will finally be throwing leather on November 22nd.
Veldhuis has some history with kickboxing and boxing, and has apparently been in a "couple of streetfights". "ElkY", on the other hand, has taken up kickboxing fairly recently. "ElkY" is currently training with Lincon Rodrigues (10-4 lifetime MMA record) and is apparently training 4 hours a day in anticipation of his fight against Veldhuis.
The basic rules of the fight:
-5 three minute rounds
-you can only win if you KO, TKO or submit your opponent
-bet is a wash if both men are still standing at the end of the fight
-no elbows, no kicks to the groin, no headbutts, no punches to the back of the head
-if you get counted down 3 times in a round, you lose. If you get counted down 4 times in the fight, you lose
--
Who you got - "ElkY" or Veldhuis?
--
Filed Under:
Other Poker News