Veldhuis Knocks Out Grospellier
Published on November 22nd, 2011 10:35 pm EST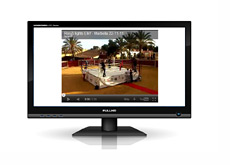 Lex "RasZi" Veldhuis knocked out Bertrand "ElkY" Grospellier in the second round to win their well-publicized kickboxing match earlier today.
Veldhuis won the fight with a kick to the head that sent Grospellier toppling to the canvas. "ElkY" couldn't continue, and Veldhuis was declared the winner.
The fight between Veldhuis and Grospellier came about as the result of some friendly horsing around. Some insults were thrown around, a prop bet was established and the fight was on.
The fight had been in the works for a couple of years, having been postponed multiple times due to injuries and venue issues. The fight finally went off today in Marbella, Spain, and Veldhuis decisively won.
"RaSZi" has been training boxing and kickboxing off and on throughout the course of his life, while "ElkY" has just recently discovered his love for combat sports. "ElkY" has been training hours per day with a MMA fighter named Lincon Rodrigues. The main question heading into the bout was - would Grospellier's recent intensive training regimen give him enough to overcome Veldhuis' experience? The answer was a decisive "no".
Many poker pros were closely following the results of the fight - as you can imagine, there was a fair bit of money bet on the outcome.
Here's Daniel Negreanu from his Twitter account:
"Yes! Congrats to @Raszi for winning by KO in the 2nd Rd! I never had a doubt. Now pay up people :-)"
Here is a fairly low quality video of the second round of the fight:
--
Filed Under:
Other Poker News