Pokerstars Set To Smash World Record
Published on December 3rd, 2011 11:08 pm EST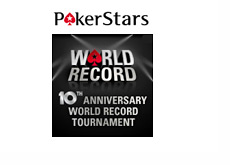 If you were thinking about playing in the $250,000 Guaranteed World Record tournament on Pokerstars tomorrow, you might want to enter the event right now.
With more than 14 hours to go until the start of the tournament, more than 177,000 players have already signed up to play in the event.
Thanks to this amazing turnout, Pokerstars is set to pulverize the record for "largest ever online poker tournament" that they set in December of 2009. That tournament ended up with 149,196 players, which allowed Pokerstars to break their own record.
--
Pokerstars has capped this latest "World Record" tournament at 200,000 players, which means that the tournament will probably be at capacity by early Sunday morning.
The event, which has a buy-in of $1, will pay out a total of $250,000. The eventual winner of the event will take home a guaranteed $50,000, which is a pretty decent return for just $1.
The tournament gets underway at 12:30 ET on Sunday afternoon, and there is no late registration.
--
Good luck to everybody who is playing in this event..
--
Filed Under:
Online Poker Rooms