$15 Million+ In Gambling Debts Revealed
Published on December 20th, 2011 2:59 am EST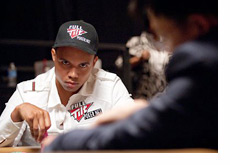 The 2009 divorce of Phil and Luciaetta Ivey was seemingly a clean and simple agreement, but it has turned out to be anything but.
The divorce between the two former high school sweethearts was sealed, meaning that the public wouldn't be privy to how their assets would be divided. Phil Ivey made it big in the poker world after marrying Luciaetta, so it was assumed at the time that she received a hefty payout.
Phil and Luciaetta had seemingly moved on from their divorce until earlier this year, when Luciaetta petitioned to disqualify the judge, Bill Gonzalez, that was assigned to their divorce case. Luciaetta's original motion to disqualify Gonzales was initially denied by Chief District Judge Jennifer Togliatti, so the former Mrs. Ivey took her complaint to the Supreme Court. Last month, the Supreme Court claimed that Luciaetta Ivey had "raised issues of arguable merit", and that Phil Ivey had 30 days to respond to the petition.
The basis of Luciaetta's complaint? Phil Ivey and his lawyers reportedly made campaign contributions to Gonzalez in the months following the divorce.
Anyways, Phil Ivey and his lawyers responded to the petition earlier today, claiming that Luciaetta was just looking to re-open the divorce case because she had "wasted all her money".
According to Phil Ivey, Luciaetta received a purse collection worth more than $1.2 million, jewelry worth more than $1 million, half of the proceeds of the sale of their home, a down payment for a new residence, her car, her life insurance policy and monthly alimony of $180,000, in addition to some other things, as part of the 2009 divorce agreement.
As part of the divorce agreement, Phil accepted more than $170,000 in credit card debt and "more than $15.1 million in gambling and other debt" as well.
Full Tilt Poker's problems hit Luciaetta Ivey hard as well, as her monthly alimony payments were contingent upon Phil continuing to receive his payments from the online poker site. Her payments ceased in April of 2011 when Phil reportedly stopped receiving his payments from Tiltware.
--
The notoriously private Phil Ivey is surely extremely unhappy about the terms of his divorce settlement being known to everyone now..
Source: Pokernews.com -
Details Surface in Phil Ivey Divorce Settlement Case
Photo: GreasieWheels.com
--
Filed Under:
Other Poker News