Police on the Lookout for Perpetrators
Published on December 22nd, 2011 3:35 pm EST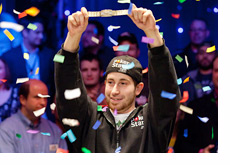 According to the Montreal Gazette (link below), 2010 World Series of Poker main event winner Jonathan Duhamel was the recent victim of a home invasion.
According to police, Duhamel was at his home in Boucherville, Quebec, when two men rang his doorbell. Duhamel answered the door and was quickly overwhelmed by the two men. Duhamel was "roughed up", and his injuries were severe enough that he needed to be treated in a local hospital.
Duhamel contacted 911 shortly after his attackers had fled his home, and police were quickly dispatched to the scene.
The attackers made off with a Rolex watch, some cash (according to the Gazette, a "considerable number of" 500-euro bills were taken) and Duhamel's 2010 World Series of Poker bracelet. The public has been made aware of the rare nature of the Rolex and WSOP bracelet in the hopes that the attackers will attempt to sell the items and the police can be alerted.
The police aren't yet sure if this was a targeted attack against Duhamel.
Duhamel apparently met with investigators earlier today and has yet to publicly speak about the incident due to the ongoing investigation.
Source: Montreal Gazette -
500-euro bills among the loot lifted from poker champ Jonathan Duhamel
--
Filed Under:
Other Poker News