Published on April 30th, 2007 6:10 pm EST
Forget the World Poker Tour Championship. The World Series of Poker is the real biggest event in poker. Did you realize that the World Series of Poker is just a short month away? Are you ready yet? Have you made your hotel reservations? You better get on it, as hotels are quickly filling up. You want to be staying at somewhere nice, and now a roach motel somewhere off the strip. If you are planning on staying for the entire World Series of Poker, then that's a month and a half that you will need to book.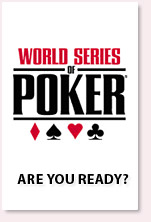 Have you booked your time off of work? Cleared it with the wife? Is she going to be ok with you leaving for 45 days, and leaving her with the kids?
Have you won your entry into the WSOP main event yet online? $10k is a pretty hefty price to be paying for a single tournament that you could get knocked out of on the first hand.
Have you considered where you are going to be buying your food? The cleanliness of the roommates that you are staying with? Lining up at the buffet 3 times a day for 45 days straight can't be good for your health. Living with 5 grubby 19 year old "poker stars" can't be too much fun either, especially if you can't find your room due to all of the litter that has made its home in your temporary residence.
Have you figured out how you are going to get to Vegas? If you are driving, will your car make it? You don't want to be breaking down in the middle of the desert. Your slightly chubby body would make a fine meal for all of the ventures that are circling above your Ford Taurus.
But most importantly: are you mentally prepared for the grind? Can you play 45 days of straight poker in a pressure cooker? Can you play against the best of the best without cracking or having a mental meltdown?
See ya in Vegas.
--
Filed Under:
The World Series of Poker