Major Poker Networks Launching "Rush Poker" Clones
Published on March 4th, 2012 12:20 am EST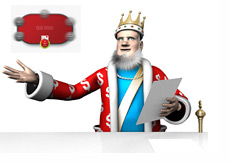 According to PokerUpdate.com (link below), "huge brands" in the online poker industry are set to launch their own versions of "Rush Poker" in the coming weeks and months.
This news comes on the heels of Pokerstars' announcement that their "Zoom Poker" will be released to the public soon. "Zoom Poker" will be a "fast-paced" game where players will be able to fold their hands and get instantly moved to a new table, a la "Rush Poker".
Other poker networks are apparently following suit - here is what PokerUpdate.com had to say:
"A source close to iGame, the company that owns the poker brand 24hrPoker on the IGT/Entraction network, confirmed that it is set to launch the fast-paced poker game under its own brands with the same product being licensed to at least two other big name poker rooms."
--
Back in early 2010, Full Tilt Poker released "Rush Poker" to the public.
"Rush Poker" was not only popular with players, but it also generated a pile of rake for Full Tilt Poker. A win/win situation, and it was just a matter of time before other companies released their own versions of the innovation.
When Full Tilt Poker shuttered its doors in June of 2011, many people lamented the fact that they could no longer play "Rush Poker". With Pokerstars and other brands close to launching their own "fast deal" products, the void left by the disappearance of "Rush Poker" is soon going to be filled.
Source: PokerUpdate.com -
Gold Rush: Fast-Paced Poker Format Coming to More Big Name Sites
--
Filed Under:
Online Poker Rooms