Is a Deal for Full Tilt Poker About To Be Announced?
Published on March 26th, 2012 1:36 pm EST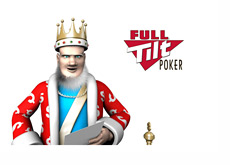 Full Tilt Poker has now been closed for nearly nine months. On June 29th, 2011, the AGCC (Alderney Gambling Control Commission) pulled the plug on Full Tilt Poker (the world's second largest online poker room at the time), and the site has been closed to the public ever since.
Over the past nine months, Full Tilt Poker's customers have been on a roller coaster ride of emotions. Will the hundreds of millions of dollars of player balances ever be recovered? Many people have substantial portions of their net worths locked up on the site, and the ups and downs of the past nine months have been agonizing for them, to say the least.
Based on multiple reports that have been released over the past few days, there may be reason for optimism.
Late last week,
Wicked Chops Poker Insider
reported that Full Tilt Poker was "in full ramp-up mode" to relaunching.
Just a few days later,
PocketFives.com released an article
in which a "source close to PocketFives" claimed that Laurent Tapie "is working in Dublin several days per week gearing up for a re-launch of Full Tilt". The source also claimed that Groupe Bernard Tapie's purchase of Full Tilt Poker is a "done deal".
Of course, as is always the case in the Full Tilt Poker saga, there was a less hopeful take on the situation as well. In the same article from PocketFives.com, a "second source" said that "there was no indication that an agreement would be signed anytime soon."
--
Even if a deal is announced tomorrow, there are plenty of things that need to still take place before FTP2 can be launched. The asset transfer from Full Tilt Poker to the US government to Groupe Bernard Tapie needs to take place, a license needs to be secured, agreements with payment processors need to be signed, etc.
--
It's easy to be skeptical about this "news" after so many ups and downs over the past nine months. Let's hope that these reports are correct and that a deal is officially inked soon.
--
Filed Under:
Online Poker Rooms