PokerTableRatings Complies With "Cease and Desist" Order From Pokerstars
Published on April 19th, 2012 1:52 am EST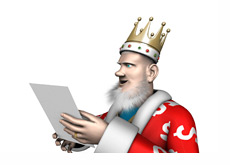 If you head over to PokerTableRatings.com and try to access a Pokerstars player profile (such as "Ilari FIN", for instance), you will be greeted with this message:
"Sorry - Stars has requested that you not view your poker player profile on PokerTableRatings.com. Please contact Stars support if you would like to see your profile made public again on PTR."
So, what exactly happened here?
Well, on April 15th, in the "Pokerstars Roundtable" on 2+2 (link below), Lee Jones (of Pokerstars) revealed that Pokerstars had sent out "Cease and Desist" letters to the people and companies associated with PokerTableRatings.com. Pokerstars demanded that PokerTableRatings "must immediately cease infringing our intellectual property rights and breaching the terms and conditions of our software."
Jones revealed that "we've assembled a team of lawyers in multiple jurisdictions to follow up" if PTR didn't follow the cease and desist order, and that while "the people behind PTR have taken considerable steps to hide their activity and shield themselves from action", Pokerstars was now "on their trail".
A short while later, PokerTableRatings complied with the cease and desist order from Pokerstars, removing all Pokerstars profiles from the site.
Here is some of what PTR had to say:
"The most contentious aspects of PTR seem to be the premium services we provide, namely player stats, however when compared to widely-accepted poker HUDs from other software providers, we believe the differences are negligible."
and
"That said, we will fully adhere to the cease and desist notice by Stars, though we do not believe that we are a disservice to the online poker community."
--
The reaction to Pokerstars' hardline stance against PTR has been pretty mixed. Many feel as though the move is long overdue and is necessary to prevent casual players from being embarrassed, while others believe that PTR provides a valuable service and deserves a place in the online poker landscape.
Either way, profiles of Pokerstars players are no longer available on PTR.
Source:
Lee Jones on PTR
Source:
PokerTableRatings.com Statement
--
Filed Under:
Online Poker Rooms