Zoom Poker No Longer in Beta
Published on May 15th, 2012 3:49 pm EST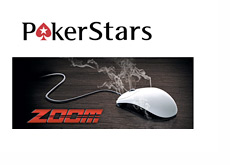 Earlier today it was revealed that Pokerstars has officially taken the beta tag off of their "Zoom Poker" product after months of beta testing.
Pokerstars launched the real-money public beta of "Zoom Poker" back in mid-March. After a couple of months of testing, Pokerstars has ironed out all of the major wrinkles and has now moved "Zoom Poker" out of beta.
Since its inception, more than 300 million hands of "Zoom Poker" have been dealt on Pokerstars. Given the popularity of "Rush Poker" on Full Tilt Poker, along with the immense size of Pokerstars' player base, everybody knew that "Zoom Poker" was going to be successful. However, 300 million hands dealt in just a few months? I would imagine that this number has to have surpassed Pokerstars' most optimistic expectations for the product.
To celebrate the full release of "Zoom Poker", Pokerstars also announced that the product is now available on the Android platform for players at Pokerstars.com, Pokerstars.eu and Pokerstars.net.
--
Filed Under:
Online Poker Rooms