Rafael Nadal Signs Deal With Pokerstars
Published on June 21st, 2012 11:58 am EST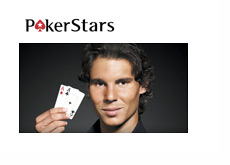 Earlier today, Pokerstars formally announced that Rafael "Rafa" Nadal has officially signed on to become the newest member of "Team Pokerstars SportStars".
Rafael Nadal is currently the #2 ranked tennis player in the world and is coming off of a recent win at the French Open, which was his 11th career Grand Slam title. Nadal has 50 career titles, an Olympic gold medal (2008 Beijing Olympics) and over $50 million in total career prize money.
In short, this is a very big signing for Pokerstars, especially given the recent launching of Pokerstars.es (Nadal was born in Manacor, Majorca, Spain).
According to Pokerstars, Nadal will "spend more time developing his poker skills" after the summer, and will represent the company in online tournaments, advertising campaigns and charity events. Further details of the arrangement between Nadal and Pokerstars will reportedly be revealed in coming months.
Pokerstars is appealing to the novice player with the signing of Nadal. Nadal is "new" to the game of poker, and a banner that was posted on Pokerstarsblog.com shows Nadal and a caption that says "Rafa Nadal Joins Pokerstars - Join Rafa on His Journey".
Rafa Nadal joins Boris Becker, Fatima Moreira De Melo and Marcus Hellner as members of "Team Pokerstars SportStars."
--
Pokerstars has wasted no time in putting Nadal's image to work - Nadal's face is the first thing that you see when you go to Pokerstars.com.
--
Filed Under:
Online Poker Rooms