Ray Bitar Arrested in New York
Published on July 2nd, 2012 3:18 pm EST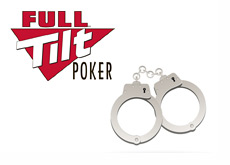 Ray Bitar, CEO of Full Tilt Poker, has been arrested by US law enforcement agents.
Bitar travelled to New York to voluntarily surrender and was reportedly arrested earlier today.
Bitar had remained in Ireland following "Black Friday".
According to Forbes.com, "federal prosecutors in Manhattan have also filed a superseding indictment against Bitar detailing fresh allegations regarding Bitar's alleged efforts to conceal Full Tilt's cash crunch following the April 2011 crackdown on online poker."
The article reveals that the Feds are alleging that Bitar sent out an email on June 11th, 2011, advising the other owners of Full Tilt Poker that the company should not issue a press release revealing bad news as it could cause "a possible new run on the bank."
In addition, federal prosecutors allege that Bitar and Nelson Burtnick "continued to draw salaries from the company, collectively receiving several million dollars after the federal crackdown on April 15th, 2011."
--
News of Bitar's pending arrest first surfaced on
TwoPlusTwo
earlier today. This email was reportedly circulated to staff in Dublin:
"To all Dublin Staff,
By now you probably have heard that I have returned to the US to deal with civil and criminal case that are pending against me in New York. We have all worked hard over the last 15 months to preserve Full Tiltís assets and potential in order to provide for the repayment of all players, and that continues to be our top priority. It is as important as ever that we all do everything possible to make that happen and, hopefully our deal with Poker Stars will very soon make our goal a reality. My return to the US is part of this process.
I am particularly grateful to all of you here in Dublin for your hard work, patience and understanding during this difficult time. I believe that your hard work and dedication should not go unrecognized, and we have made arrangements for Poker Stars to guarantee all July salaries. You should therefore have no concern about coming to work during this period. After that, we expect that your employment contracts will be assumed by the buyer of the companyís assets.
For those that need to reach me, I expect to continue to be available by email and phone starting late Monday, New York time.
In the meantime, please refer any operational questions to **REDACTED**, and any HR questions to **REDACTED**.
Thank you all again.
Kind regards,
Raymond J Bitar"
--
This is obviously a big step towards a potential PS/FTP deal going through.. I imagine that there will be plenty more news in the coming weeks..
Source: Forbes.com -
Feds Arrest Full Tilt CEO Ray Bitar And Again Call Full Tilt Poker a Ponzi Scheme
--
Filed Under:
Online Poker Rooms
|
UIGEA
|
Poker Legal Issues