Antonio Esfandiari Leads Heading Into Tuesday
Published on July 3rd, 2012 4:58 am EST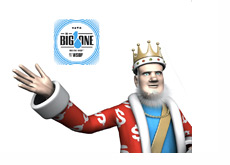 The final table of the BIG ONE for ONE DROP is now set.
By the time that the BIG ONE for ONE DROP wraps up late Tuesday/early Wednesday morning, one person will be over $18 million richer.
Eight players are vying for that monstrous first place prize. They are:
Antonio Esfandiari, 39,925,000
Sam Trickett, 37,000,000
Guy Laliberte, 21,700,000
Brian Rast, 11,350,000
Phil Hellmuth, 10,925,000
David Einhorn, 8,375,000
Richard Yong, 7,475,000
Bobby Baldwin, 7,150,000
All eight of these men are guaranteed a minimum of $1,237,333 for making it this far. Here are the final table payouts:
1st - $18,346,673
2nd - $10,112,001
3rd - $4,352,000
4th - $2,645,333
5th - $1,834,666
6th - $1,621,333
7th - $1,408,000
8th - $1,237,333
The final table will feature a very interesting mix of players.
You have Phil Hellmuth, one of the most successful tournament players of all time who will be looking to win his 13th World Series of Poker bracelet.
You have Guy Laliberte, billionaire founder of Cirque de Soleil and chairman of the ONE DROP charity.
You have David Einhorn, founder of the Greenlight Capital hedge fund and one of the most feared and respected traders in the world.
You have Sam Trickett and Brian Rast, two of the most talented poker players in the world.
You have Antonio Esfandiari, one of the most likeable personalities in poker and a tremendous tournament player.
You have Bobby Baldwin, who is an absolute legend in the world of poker. A win in this event would top off an unbelievable career for Baldwin.
Finally, you also have Richard Yong, the rich Chinese businessman who has made the ultra high stakes games in Macau his second home. Yong will certainly not be intimidated at the final table.
--
The final table will get underway at 12 pm local time on Tuesday afternoon.
--
Filed Under:
The World Series of Poker