Fate of Rumored PS/FTP Deal Likely To Be Known Shortly
Published on July 12th, 2012 3:49 pm EST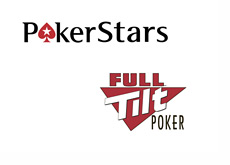 On April 24th, Groupe Bernard Tapie pulled out of their proposed deal to purchase Full Tilt Poker, citing "legal complications" and a "surprise demand made in the 11th hour" by the US Department of Justice (DoJ) regarding the reinstatement of all ROW player balances.
Lawyers for GBT said at the time that it was clear that prosecutors were negotiating with another potential buyer for Full Tilt - that potential buyer is Pokerstars, even though the company has never officially acknowledged that they are attempting to purchase Full Tilt's assets. Pokerstars first issued a "no comment" when rumors of a potential PS/FTP deal emerged, and then followed this up with a short statement saying that they were "in settlement discussions with the U.S. Department of Justice" and that they were "unable to comment on rumors".
All was silent on the PS/FTP front until earlier this month when Full Tilt Poker CEO Ray Bitar turned himself in to US authorities. Before turning himself in, Bitar sent a letter out of the staff of Pocket Kings in Dublin. In the letter, Bitar alluded to a potential deal with Pokerstars and also claimed that Pokerstars would be guaranteeing all July salaries at Pocket Kings.
Fast forward to yesterday. Rumors start to fly that Pokerstars is pulling out of the rumored deal. The apparent source of the rumors was James Barnes (
@JamesBarnesEsq
), who said:
"Pokerstars folds on FTP deal. Never real deal, just bluff to prevent Tapie from bringing FTP back to market - great bargaining chip with DOJ"
and
"DOJ have rejected proposal by Isai to have civil charges dropped. He's worried about jail time. Pokerstars have gone all-in! Will DoJ fold?"
According to his Twitter account, Barnes was previously legal Counsel at PartyGaming (parent company of Party Poker).
Later in the day,
Andrew Feldman of ESPN Poker
(and others) hears back from Eric Hollreiser, head of Corporate Communications for Pokerstars. Hollreiser apparently says that the Tweets regarding Pokerstars folding on the deal are "false". Hollreiser also Retweets Feldman's Tweet, which read:
'The Head of Corp Communications for @PokerStars @erichollreiser says the Twitter rumors of PS folding on the FTP deal is "false"'
--
There were also rumors circulating that a PS/FTP/DoJ deal was supposed to have been signed this Monday, but that has neither been confirmed nor denied.
Haley Hintze recently penned an article detailing some of the issues that may be delaying the buyout,
which you can read here
.
--
The long and the short of it - negotiations are apparently still ongoing.
--
Filed Under:
Online Poker Rooms
|
Poker Legal Issues