Jesse Sylvia Has Chip Lead With Nine Players Left
Published on July 17th, 2012 4:11 am EST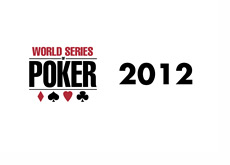 The 2012 World Series of Poker main event final table has been set.
In previous years, an agonizing amount of time would be spent eliminating the 10th player from the main event. This year, the process was a relatively quick one, as Gaelle Baumann was eliminated just 15 hands into ten-handed play. Baumann moved her short stack all-in holding Ad-9h and was called by Andras Koroknai and his A-J offsuit. The better hand held up, and Baumann was sent to the rail in 10th place ($590,422).
With that, the final table was set, and the remaining nine players will be back in late October to determine a champion.
Jesse Sylvia will have the chip lead when the final table gets underway later this year. Sylvia was able to finish Day 7 with nearly 44 million in chips, which is well ahead of Andras Koroknai (29.3 million) and Greg Merson (28.7 million).
Here are the chip counts as of right now (there may be some adjustments after the final numbers are in):
Jesse Sylvia, 43,875,000
Andras Koroknai, 29,375,000
Greg Merson, 28,725,000
Russell Thomas, 24,800,000
Steven Gee, 16,860,000
Michael Esposito, 16,260,000
Robert Salaburu, 15,155,000
Jacob Balsiger, 13,115,000
Jeremy Ausmus, 9,805,000
All nine players are guaranteed a minimum of $754,798 for making it this far. All nine players will receive ninth place money immediately, with the rest of the tournament money to be doled out when the final table commences in October.
Here are the final table payouts:
1st - $8,527,982
2nd - $5,292,889
3rd - $3,797,558
4th - $2,850,494
5th - $2,154,616
6th - $1,640,461
7th - $1,257,790
8th - $971,252
9th - $754,798
--
For a while on Monday night, it appeared as though there was a good chance that the final table would feature at least one woman.
Gaelle Baumann and Elisabeth Hille went very deep in this event, but both players were eliminated just before the final table (Baumann in 10th place, Hille in 11th).
--
Eight of the nine players at the final table will hail from the United States. Andras Koroknai is the only final table player who doesn't hail from the US (he was born in Hungary).
--
Filed Under:
The World Series of Poker