Full Tilt Poker's Relaunch Date Draws Closer
Published on October 7th, 2012 1:37 pm EST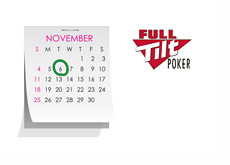 Less than one month from today, Full Tilt Poker (now owned by Pokerstars) will re-open its doors to the public. Cards will be dealt within the next month, and people outside of the United States will finally be able to access their long trapped balances.
Shortly after Pokerstars signed their deal with the US government, Lee Jones revealed that Full Tilt Poker would be re-opening its doors "no later than November 6th". Based on what I've heard, November 6th is being targeted as the relaunch date.
Over the next month, expect a steady stream of news from Full Tilt Poker regarding planned promotions, software changes and brand ambassadors. Earlier this week, Full Tilt Poker revealed that Gus Hansen will be the new "face" of Full Tilt Poker and will serve as a brand ambassador for the company. Other deals are expected to be announced in the coming weeks. It's been fairly quiet on the Full Tilt Poker front since the company was officially acquired by Pokerstars, but that will change over the coming weeks as the company continues to ramp up its operations ahead of the relaunch.
--
It's been a long, strange journey for Full Tilt Poker and its customers over the past year and a half. The last hand on Full Tilt Poker was dealt in June of 2011, and the site has been shut ever since.
It will be interesting to see how Full Tilt Poker plans on luring customers back to the site. Sure, many regular players who have been following the situation closely will return to Full Tilt immediately, but what about the casual weekend players who have forgotten about Full Tilt? It's those players that Full Tilt Poker is going to have to work hard on to bring back into the fold.
--
Filed Under:
Online Poker Rooms