Lederer Receives Death Threats
Published on October 10th, 2012 11:44 pm EST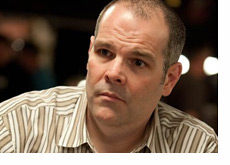 Howard Lederer resurfaced at the poker tables earlier this week, logging some time in both "Bobby's Room" (Bellagio) and "Ivey's Room" (Aria).
The Twitter universe started buzzing on Monday after Lederer reportedly sat down in "Bobby's Room" for a game. Aside from being spotted around town in Las Vegas a couple of times, Lederer largely stayed "underground" after "Black Friday".
According to Brian Pempus, Lederer was involved in a "friendly game" in Bobby's Room on Monday:
"Howard Lederer playing black-chip game in Bobby's Room w/ Brunson, Elezra, Schulman (no Ivey). Friendly game - lots of laughing and chatter."
Source: (
@brianpempus
)
--
According to Cardplayer.com
, Lederer continued to play on Tuesday night at Aria:
"On Tuesday, Lederer played with Nick Schulman, David Oppenheim, Huck Seed and Chau Giang, all who represented Full Tilt at one point. Doyle Brunson rounded out the lineup. The atmosphere at the table looked friendly and was full of chatter.
Seed told Card Player during a bathroom break that Lederer was in 'good spirits' and playing great poker."
--
Given the events of the past 18 months, and given the fact that US Full Tilt Poker players still don't know when they will be getting their money back from the US government, many people weren't too happy to hear about Lederer popping back up in Las Vegas poker rooms.
According to the Cardplayer.com article above, Aria employees received multiple death threats against Howard Lederer.
--
When Lederer gave interviews to Pokernews.com and TwoPlusTwo a few weeks ago, he was obviously hoping to lay the groundwork for a return to the poker world. Give some "I don't knows", point some fingers of blame and hope to return to the world of "live poker" without being harassed. Lederer is going to need to make some money somehow, as the US government is going after him for many millions of dollars and he is no longer receiving those juicy Full Tilt Poker distribution payments.
It's not going to be that easy, however, as the Full Tilt Poker scandal will surely follow Lederer around for the rest of his life - as it should.
Photo: GreasieWheels.com
--
Filed Under:
Other Poker News