New Unified Rewards Program Coming To Full Tilt
Published on October 12th, 2012 8:10 pm EST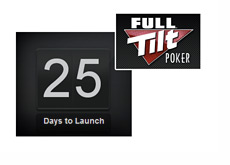 Full Tilt Poker's poker room manager, Shyam Markus, revealed earlier today that a new unified rewards program will be introduced on Full Tilt Poker when the site relaunched in early November.
One of the biggest questions that was being asked after Pokerstars closed their deal for Full Tilt Poker was - would Full Tilt players still be able to receive 27% rakeback if they had signed up via a rakeback affiliate?
Full Tilt Poker revealed the answer to that question earlier today - no.
Affiliate-paid rakeback, Iron Man and the Black Card are all going to be gone when Full Tilt Poker 2.0 opens its doors on November 6th. In their place, a unified rewards program that will be available to everyone, regardless of whether or not they signed up with a rakeback affiliate.
According to Markus, weekly cash payments will be made to players based on the number of Full Tilt Points that were earned during the week. It sounds as though the payment amounts will be based on how many points you earn - the more FTPs you earn, the larger $/100 FTPs you will earn. The payout program will reportedly top out at $2.50 for every 100 Full Tilt Points earned.
Some other points of interest courtesy of Shyam Markus:
-no deduction of fees (promotions, etc) from the weekly payouts
-FTPs will now be earned using the Weighted Contribution method
-FTPs can still be spent. According to Markus, "depending on how you spend them, points add an additional 4-5% to the program"
-"the top level of this program is significantly easier to achieve than the Black Card was"
-the Black Card program will be reintroduced at a later date, but will be different
Emails have reportedly been sent out to everybody who had affiliate rakeback or was in the Iron Man or Black Card programs. If you want to read the post from Markus describing some of the changes that are coming,
click here
(2+2). More details regarding the new regards program are expected to released over the coming weeks.
--
Some other pieces of information that were released today include:
-players will be able to download, install and even log in to Full Tilt Poker before the site relaunches on November 6th
-if you were due rakeback for the last week in June, you will still receive it
-exact relaunch time on November 6th hasn't been announced as of yet, but it won't be at midnight
-the Full Tilt Poker lobby will be the same as it was before the site went down
--
Full Tilt Poker is now just 25 days away from its relaunch.
--
Filed Under:
Online Poker Rooms