Greg Merson, Jesse Sylvia and Jake Balsiger To Battle For Main Event Bracelet
Published on October 30th, 2012 2:06 pm EST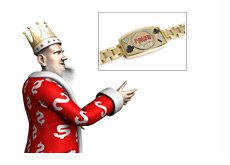 Greg Merson. Jesse Sylvia. Jake Balsiger.
One of these three men will take home the coveted World Series of Poker main event bracelet and over $8.5 million on Tuesday evening.
Here are the chip counts heading into the final day of play on Tuesday:
1. Greg Merson, 88,350,000
2. Jesse Sylvia, 62,750,000
3. Jake Balsiger, 46,875,000
Here are the top three payouts:
1. $8,531,853
2. $5,295,149
3. $3,799,073
Here are the final table finishes up to this point:
4. Russell Thomas, $2,851,537
5. Jeremy Ausmus, $2,155,313
6. Andras Koroknai, $1,640,902
7. Michael Esposito, $1,258,040
8. Robert Salaburu, $971,360
9. Steve Gee, $754,798
The final hand on Tuesday took place when Jake Balsiger decided to move all-in from the big blind following a raise from Russell Thomas (who was in the small blind). After some thought, Thomas called and flipped over Ah-9d, only to see that he was far behind Balsiger's As-Kc. The board ran out 8c-Qh-5h-5d-7h, giving Balsiger the very large pot and eliminating Russell Thomas from the tournament in fourth place.
--
The final day of play will get underway at approximately 5:45 pm local time on Tuesday afternoon. The action will be broadcast on ESPN in the United States.
--
Filed Under:
The World Series of Poker