Full Tilt Poker 2.0 is Officially Open For Business
Published on November 6th, 2012 2:36 pm EST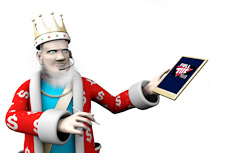 Real money games went live on Full Tilt Poker earlier today, officially marking the beginning of Full Tilt Poker 2.0.
With the official launch of Full Tilt Poker 2.0, non-US players can now access their player balances that have been trapped for nearly 18 months. Players have been patiently waiting for their trapped balances since Full Tilt Poker went down in June of 2011. Non-US players had over $180 million trapped in Full Tilt Poker when the AGCC pulled the plug on the operation in the summer of 2011, and the site pledged that all of this money would be made available for immediate withdrawal when it officially relaunched.
US players, on the other hand, are still waiting to hear details from the Department of Justice as to how and when they will be able to apply to have their balances reimbursed.
--
As mentioned, Full Tilt Poker officially relaunched earlier this morning.
As of a few hours ago, there were 20,173 open tables and 37,794 players on the site.
--
It's been a long, strange journey, but Full Tilt Poker is finally open for business once again.
--
Filed Under:
Online Poker Rooms