FTOPS XXI To Run From Dec 2nd to Dec 16th
Published on November 9th, 2012 12:19 pm EST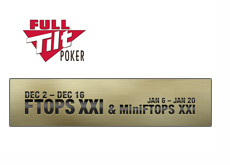 Earlier today, Full Tilt Poker released the schedules for both FTOPS XXI and MiniFTOPS XXI. FTOPS XXI will run from December 2nd to December 16th, while MiniFTOPS XXI will run from January 6th to January 20th.
The last FTOPS event, FTOPS XX, ran from April 17th-May 1st of 2011, which was right after "Black Friday" took place. The winner of the last FTOPS XX event was "ArielBahia", who took down $346,696.49 in the main event.
It appeared for many months as though "ArielBahia" would be the final winner of a FTOPS event, as Full Tilt Poker very nearly went extinct. The site was saved, however, after Pokerstars signed their settlement deal with the US government and took over Full Tilt Poker's assets. The FTOPS was retained, and the first Full Tilt Poker 2.0 FTOPS event will get underway on December 2nd.
--
35 events will comprise FTOPS XXI. Event #1, which gets underway at 13:30 ET on Sunday, December 2nd, will be a $216 NLHE Multi-Entry tournament with a total guarantee of $750,000. Event #35, which gets underway at 13:30 ET on Sunday, December 16th, will be the $640 NLHE multi-entry Main Event with a total guarantee of $1,500,000.
Given the strong turnout on Full Tilt Poker over the past few days, I expect most or all of the guarantees to easily be topped.
The full FTOPS XXI schedule can be found below:
Source: FullTiltPoker.com -
Full Tilt Poker FTOPS XXI Schedule
--
Filed Under:
Online Poker Rooms