Full Tilt Poker Immediately Reclaims Status As World's Second Largest Online Poker Room
Published on November 10th, 2012 4:15 pm EST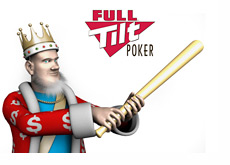 That didn't take long.
According to Pokerscout.com (link below), Full Tilt Poker is once again the second largest online poker room in the world.
Pokerstars purchased Full Tilt Poker's assets as part of their settlement deal with the US Department of Justice. At the time that the settlement was announced, Pokerstars revealed that they would be running Full Tilt Poker as a separate site.
After being offline for roughly 16 months, Full Tilt Poker flipped the switch for real money games earlier this week. People flocked back to the site immediately, which speaks to the popularity of the site's software and to the pristine reputation of Pokerstars. It also helped that Pokerstars allowed people to pair their PS and FTP accounts, which has allowed people to easily transfer money between the two sites.
--
Peak number of cash game players over a 24 hour period, courtesy of Pokerscout.com:
Pokerstars - 34,360 players
Full Tilt Poker - 13,614 players
iPoker - 5,069 players
PartyPoker - 4,968 players
888Poker - 3,036 players
--
It will be interesting to see where Full Tilt Poker settles at over the next few weeks. Will the novelty of Full Tilt Poker being back wear off? Seems doubtful given the marketing might of Pokerstars and the upcoming FTOPS XXI and MiniFTOPS XXI events.
Some people have been reporting customer service issues with Full Tilt Poker over the past week, but aside from that, the re-launch has gone fairly smoothly.
Source:
Pokerscout.com
--
Filed Under:
Online Poker Rooms