Published on May 11th, 2007 5:45 pm EST
Everyone had just assumed that when the UIGEA was passed, that there would be no poker room advertising at all at the 2007 World Series of Poker. The fact that Party Poker just re-upped and renewed their deal with Harrah's for the 2007 World Series of Poker just shows you that the online poker industry is adaptable and resilient, and will never completely go away.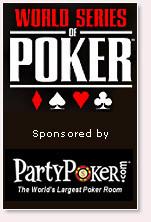 Instead of Partypoker.com advertisements on the tables, there will be Partypoker.net advertisements on the tables. Obviously Partypoker.net will not advertise real money gambling on the site, to skirt any laws that would prohibit the advertising of real money gambling sites. So, to get around any legal issues, Party Poker will simply promote their free money site.
How will they make money from this? Well, if you go to Partypoker.net and download their software, you will obviously have to enter an email address as well. Party Poker will then email you, showing you how to deposit with real money, giving themselves a back door approach to acquiring new real money customers.
Since Partypoker.net does not advertise real money play, there is nothing that the government can do about it. Sites that advertise *.net sites are thumbing their noses at the ridiculous rules set forth by our government, and I love them for it.
Sponsoring the World Series of Poker is a great marketing move by Party Poker, as it generates brand awareness as the World Series of Poker is watched by millions and millions of people from all over the world. First poker rooms find alternative methods of allowing their customers to fund accounts, and then they find a way to sidestep any legal issues when it comes to advertising.
You can try to kill online poker, but you'll never be successful.
--
Filed Under:
Online Poker Rooms
|
The World Series of Poker