Zynga Jumps Following Launch of New Sites
Published on April 4th, 2013 4:31 am EST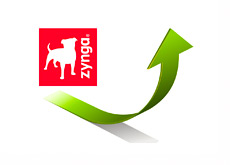 Shares of Zynga jumped nearly 15% on Wednesday after it was revealed that the company will be launching ZyngaPlusPoker and ZyngaPlusCasino later in the week.
ZyngaPlusPoker and ZyngaPlusCasino represents Zynga's foray into the real money online gambling space. Zynga has partnered up with Bwin.Party (parent company of Party Poker) to offer real money online gambling to people in the United Kingdom.
This is basically a soft launch, as Zynga has already revealed that ZyngaPlusPoker and ZyngaPlusCasino will initially only be available through the websites and via direct download. If you live in the United Kingdom and were hoping to test out these offerings via your Facebook account or through a mobile device, you will have to wait.
Zynga (and its shareholders) are hoping that real money online gambling turns into a lucrative new revenue stream for the company. A successful launch in the United Kingdom would lead to Zynga/Bwin.Party collaborating in other markets, including markets that are in the process of opening up (Nevada, etc).
--
Shares of Zynga closed trading on Wednesday afternoon at $3.53. The company, which is currently valued at $2.77 billion, is still well off of its all-time high of over $14.
The company has been beset by many problems since debuting as a public company and is hoping that real money gaming will help to reverse the momentum.
--
Filed Under:
Online Poker Rooms