Daniel Negreanu Takes Home Fifth WSOP Bracelet With Win
Published on April 15th, 2013 1:47 pm EST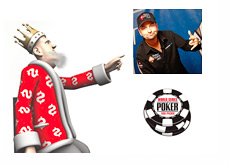 Daniel Negreanu dominated the final table of the inaugural WSOP APAC main event earlier today en route to winning his fifth World Series of Poker bracelet and over $1 million AUD.
The outcome was never really in doubt on Monday as Negreanu took the chip lead early on at the final table and never let his foot off of the gas. Daniel Marton valiantly tried to hang on during heads-up play, but Negreanu was eventually able to finish his short-stacked opponent off. The final hand of the event saw Negreanu push all-in over a pre-flop raise from Marton. Marton called holding As-7s, while Negreanu turned over pocket Twos. The board ran out 6d-Js-Kh-Th-4d, giving Negreanu the pot and the tournament win.
Here is how the final table ended up finishing out:
1st: Daniel Negreanu - $1,038,825
2nd: Daniel Marton - $637,911
3rd: Winfred Yu - $423,225
4th: George Tsatsis - $284,715
5th: Kahle Burns - $201,994
6th: Benny Spindler - $146,205
7th: Mikel Habb - $107,730
8th: Russell Thomas - $82,721
$1,038,825 AUD translates into about $1,078,139 USD, which means that Negreanu now has nearly $17.5 million in total lifetime tournament cashes. This moves Negreanu within a couple hundred thousand dollars of Phil Hellmuth, Phil Ivey and Erik Seidel on the all-time money list.
In addition to the $1 million+, Daniel Negreanu also took home his fifth World Series of Poker bracelet with his win earlier today. This was Negreanu's first bracelet win since the 2008 World Series of Poker.
--
Negreanu had this to say on Twitter following the event:
"I won!!!!!!!!!!!! YES! Very happy right now. Thanks to all my friends and family for giving me the confidence I needed! So happy!!!!"
--
Filed Under:
The World Series of Poker