First $10,000 Sunday Tournament on Ultimate Poker Hits 200 Player Cap
Published on May 5th, 2013 11:38 pm EST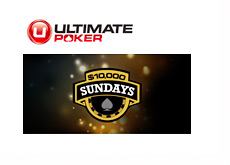 The first ever $10,000 Sunday Tournament on UltimatePoker.com got underway just a few hours ago.
The event, which had a cap of 200 entrants, ended up selling out. The weekly tournament has a buy-in of $91 + $9 and a guarantee of $10,000.
This event is important because it is the first ever "major" real money tournament to be held on a licensed and regulated online poker site in the United States.
UltimatePoker.com got a jump on their competition earlier this week by being the first site to offer real money poker to people within Nevada's state borders. Station Casinos is the majority stakeholder of Ultimate Gaming, which operates the Ultimatepoker.com site. Frank Fertitta III and Lorenzo Fertitta, who reportedly own 45% of Station Casinos LLC, are also the majority stakeholders of Zuffa, LLC, which is the parent company of the UFC (Ultimate Fighting Championship). The UFC has been pushing the Ultimate Poker site hard over the past few months on their PPV and television broadcasts.
--
Ultimate Poker is currently in a "field trial" stage as per NRS 463.750 and Assembly Bill 114. The cap for the $10,000 Sunday Tournament is expected to be raised once the "field trial" stage has been completed.
Ultimate Poker has been busy ironing out the wrinkles since dealing its first hand of real money poker earlier in the week. One of the biggest issues for the company has been properly geo-targeting and verifying its new customers.
--
Filed Under:
Other Poker News