Pokerstars Hoping For Tournament Field of 225,000 Players on June 16th
Published on June 4th, 2013 2:28 pm EST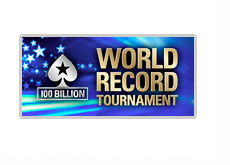 As part of their 100 Billion Hands celebration, Pokerstars is hosting yet another "World Record Tournament" on June 16th.
Pokerstars currently holds the record for hosting the largest poker tournament (by field size) of all time, but they are looking to one up themselves.
The current record for largest poker tournament was set in December of 2011 when 200,000 players turned out for a "World Record Tournament" on Pokerstars.
On June 16th, 2013, Pokerstars is hoping to host a $1 tournament that will include an eye-popping 225,000 players.
The tournament, as mentioned, will have a buy-in of just $1. Despite the $1 buy-in, there will be a fixed prize pool of $300,000, with $25,000 going to the eventual winner of the tournament.
The tournament will be capped at 225,000 players, and there will be no late registration.
Given Pokerstars' continued growth over the past 1 1/2 years, I would expect this tournament to sell out easily. If you were thinking of playing, you may want to lock up your spot now.
--
Pokerstars has broken the record for hosting the largest ever poker tournament multiple times over the past number of years.
Here is a brief history:
December 28th, 2008 - 35,000 players turn out for $11 buy-in tournament (record)
July 19th, 2009 - 65,000 players turn out for $1 buy-in tournament (record)
December 27th, 2009 - 149,196 players turn out for $1 buy-in tournament (record)
December 4th, 2011 - 200,000 players turn out for $1 buy-in tournament (record)
--
Source: Pokerstars.com -
World Record Tournament
--
Filed Under:
Online Poker Rooms