Jerry Buss Honored at the World Series of Poker
Published on June 13th, 2013 12:24 am EST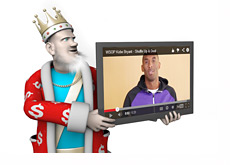 1. Mark Scheinberg Forfeits $50 Million.
Mark Scheinberg, CEO of Pokerstars and son of Isai Scheinberg, entered into an agreement with the United States District Court for the Southern District of New York yesterday that will see Scheinberg ship the US government $50 million.
The US government had asserted that many millions of dollars that Scheinberg had received in distribution payments were subject to forfeiture. Scheinberg and his lawyers had disagreed, but the two sides eventually reached an agreement that was signed earlier this week.
According to Pokerstars spokesman Eric Hollreiser, Mark Scheinberg admits no wrongdoing or guilt.
The forfeiture order that was signed by Mark Scheinberg is separate from the Pokerstars settlement that was signed in the summer of 2012.
You can read the forfeiture order
here
.
2. Jerry Buss Tribute.
Jerry Buss was honored before the start of Event #23 ($2,500 Seven Card Stud) at the World Series of Poker earlier tonight.
Jerry Buss is best known as being the owner of the Los Angeles Lakers, but he was also an avid poker player who was loved and revered by many in the poker community. Whether it was high stakes cash games or low buy-in tournaments, Buss had an unquenchable passion for the game of poker. Buss was just as happy playing in a $100 buy-in tournament as he was in a high stakes cash game with hundreds of thousands of dollars on the line.
Jerry Buss cashed for $172,490 in live tournament events over the course of his life, with his largest ever cash coming in a $200 No Limit Hold'em tournament in March of 2005. Buss also took third place in a $2,500 Seven Card Stud event at the 1991 World Series of Poker.
Kobe Bryant filmed a special message to the players participating in tonight's $2,500 Seven Card Stud event, which you can view below:
--
Filed Under:
The World Series of Poker
|
Poker Legal Issues