"Microulis69" Wins $103,800
Published on June 13th, 2013 7:01 pm EST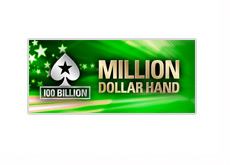 Nearly 12 years after the company was launched in 2001, Pokerstars has dealt its 100 billionth hand.
Over the past 12 years, Pokerstars has endured its share of ups and downs. UIGEA, "Black Friday" and European licensing headaches are just some of the issues that Pokerstars has had to deal with over the past 12 years, but they have been able to negotiate every obstacle successfully and endure.
Earlier today, Pokerstars celebrated its 100 Billionth hand milestone by dishing out $1 million to a number of lucky players.
The 100 billionth hand ended up taking place at a $0.02/$0.05 No Limit Hold'em table (Euryalos XI).
The 100 billionth hand was eventually won by "microulis69". "Microulis69" wasn't looking too strong pre-flop, as his Jd-5d was up against K-6 off, 7-3 off, Kd-3d, 2-8 off and Qs-6s, but he moved into the lead when the flop came Ac-2c-Jc. The hand was still very much in doubt at that point, though, as there were three clubs on the board and "Mayers666" had the Seven of Clubs in his hand, while three players had one overcard.
Fortunately for "Microulis69", the turn and river didn't improve anybody at the table, and he was able to take down the pot and the $103,800 prize.
Here is what the six players at the table ended up receiving from the 100 Billionth hand promotion:
"Microulis69", $103,800
"Doc836", $13,440
"HeyitsClay", $13,440
"GlassGagguas", $13,360
"MoodyMiss", $12,760
"Mayers666", $12,460
--
Pokerstars also paid out an additional $830,790.34 to every player who was also playing $0.02/$0.05 No Limit Hold'em at the time that the winning hand was dealt.
In total, 9,471 players ended up receiving a share of the $830,790.34, which worked out to a payout of $84.72 per player.
--
Filed Under:
Online Poker Rooms