225,000 Players Turn Out For Record Breaking Tournament
Published on June 16th, 2013 5:34 pm EST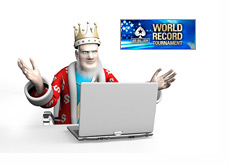 Pokerstars has done it again - they've broken their own world record for hosting the largest ever poker tournament.
A total of 225,000 players from all over the globe turned out for the latest edition of the Guinness World Record Attempt tournament. This massive turnout easily shattered the previous world record of 200,000 players (a world record that was also held by Pokerstars).
Today's tournament, which had a buy-in of $1, had a total guaranteed prize pool of $300,000.
In the end, "Mr.SlavaPro" from Russia ended up taking down the event for $25,000 - a very nice return on a $1 investment. "Johnnykara75" took $15,000 for second place, while "1star09" took home $10,000 for third.
The top 60,000 players cashed in the event, with a mini-cash being worth $2.
The event was capped at 225,000 players and ended up selling out.
--
Pokerstars has now broken the record for world's largest ever poker tournament (by field size) five times over the past 4 1/2 years.
Here is the history:
December 28th, 2008 - 35,000 players turn out for $11 buy-in tournament (record)
July 19th, 2009 - 65,000 players turn out for $1 buy-in tournament (record)
December 27th, 2009 - 149,196 players turn out for $1 buy-in tournament (record)
December 4th, 2011 - 200,000 players turn out for $1 buy-in tournament (record)
June 16th, 2013 - 225,000 players turn out for $1 buy-in tournament (record)
--
Filed Under:
Online Poker Rooms