MicroMillions 5 Will Run From July 18th to July 28th
Published on July 2nd, 2013 7:00 pm EST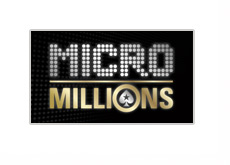 Details of Pokerstars' MicroMillion 5 "festival" were revealed by the world's largest online poker site earlier today.
The tournament series, which will run from July 18th to July 28th, will feature a total guaranteed prize pool of $5 million.
The series caters to players with more modest bankrolls, as the buy-ins range from $0.11 up to $22.
MicroMillions 4, which ran earlier in the year, ended up paying out a total of $9,588,892.60 after receiving a grand total of 1,572,760 entries. It's pretty safe to say that MicroMillions 5 will be as big or even bigger than its predecessor.
A total of 100 events will comprise MicroMillions 5. The first event (#001: $0.11+R NL Hold'em [Hyper-Active, $15k Gtd) gets underway at 12 pm ET on July 18th, while the final event (#100 - $1+R NL Hold'em [Hyper-Turbo, $30k Gtd) will get underway at 21:00 ET on July 28th.
The main event of the MicroMillions 5 will get underway at 14:30 pm ET on July 28th. The event, which has a buy-in of $22, will pay out a minimum of $1,000,000, with $150k being guaranteed to the eventual winner.
Here are the rest of the MicroMillions 5 events with a guarantee of at least $100,000:
Event #002 - $1+R NL Hold'em [3x-Turbo, $150k Guaranteed]
Event #020 - $2.22+R NL Hold'em [3x-Turbo, Saturday Splash Special Edition, $150k Guaranteed]
Event #022 - $11 NL Hold'em [SuperKnockout, $100k Guaranteed]
Event #023 - $1+R NL Hold'em [3x-Turbo, $125k Guaranteed]
Event #032 - $11 NL Hold'em [Sunday Storm Special Edition, $300k Guaranteed]
Event #041 - $1+R NL Hold'em [3x-Turbo, $100k Guaranteed]
Event #050 - $4.40 NL Hold'em [4-Max, 4x Chance, $100k Guaranteed]
Event #085 - $2.22+R NL Hold'em [3x-Turbo, Saturday Splash Special Edition, $150k Guaranteed]
Event #097 - $11 NL Hold'em [Sunday Storm Special Edition, $300k Guaranteed]
The complete MicroMillions 5 schedule can be found by visiting the link below:
Source: Pokerstars.com -
MicroMillions 5 Schedule
--
Filed Under:
Online Poker Rooms