Published on May 24th, 2007 10:01 am EST
After Harrah's announced that they would no longer allow online poker rooms to maintain a presence at the World Series of Poker (hospitality rooms, register players ahead of time, etc.) players had wondered how the online poker rooms would cope with this. World Series of Poker satellites are always a big draw and a good way to market for the poker rooms; I mean, who doesn't want a shot at potentially winning $12 million dollars, and possibly playing at a table with Shannon Elizabeth or James Woods?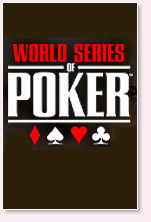 The poker rooms had been tight-lipped about this as they tried to find a way around the new policy. However, they soon realized that there would be no way around it, and that players would have to register themselves.
So, instead of a player winning a seat at the World Series of Poker main event and a room like Pokerstars registering the player, Pokerstars will now just put $10,000 cash into the player's account, and leave it up to them as to whether or not they want to withdraw the money and sign up for the World Series of Poker main event themselves.
I think that most players will likely just take the money and not play the main event. This will obviously have a major impact on the total number of players that will be participating in the main event. When you combine that with the fact that Party Poker is no longer servicing the US market, you will likely see somewhere around 4500 players playing in the Main Event this year, compared to about 8700 players in last year's main event.
Faced with a sudden influx of $10,000 in their playing accounts, I think that most players will either withdraw this money or blow it at the tables.
--
Filed Under:
The World Series of Poker