"Kid_Bramm", "Broskyprosky" Take Down First Events of Series
Published on August 5th, 2013 3:44 pm EST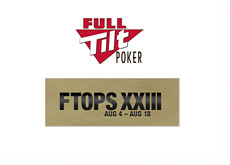 The thirteenth edition of the FTOPS (Full Tilt Online Poker Series) kicked off on FTP yesterday. The series, which runs through August 18th, will feature a total of 39 events, including the brand new 5-Card Omaha, 6-Card Omaha and Courchevel tournaments.
Both of Sunday's events ended up easily surpassing their guarantees.
Event #1 ($200 + $15 No Limit Hold'em w/ Re-Entries) ended up with a total prize pool of $700,600, easily surpassing the guarantee of $500,000. The event was eventually won by "kid_bramm", who took home $129,611.00 for his efforts.
Event #2 ($300 + $20 NLHE Escalator) ended up with a total prize pool of $277,800, crushing the total guarantee of $100,000. "Broskyprosky" managed to outlast a field of 926 players to take down the event for $45,021.13, but second place finisher "mendezoo" actually walked away with more money ($47,541.83) after the two players cut a deal.
--
A total of three FTOPS XXIII events are set to take place on Monday, including:
Event #3 - $100 + $9 PL Omaha Hi Rebuy ($75,000 Guarantee)
Event #4 - $1,000 + $50 NLHE Re-Entry Tournament ($500,000 Guarantee)
Event #5 - $200 + $15 NLHE Rush ($100,000 Guarantee)
--
Filed Under:
Online Poker Rooms