Station Casinos LLC Reports Their Q2 Earnings
Published on August 7th, 2013 10:41 pm EST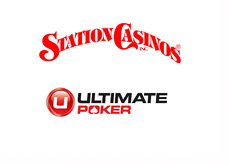 Station Casinos LLC, owner of such casinos as the Red Rock Resort Spa and Casino and Boulder Station, reported their Q2 earnings earlier today.
The company, which exited bankruptcy back in the summer of 2011, is mostly owned by the Fertitta brothers (who are also the majority owners of Zuffa, LLC, which is the parent company of the UFC), Deutsche Bank and JPMorgan Chase.
Station Casinos LLC also owns UltimatePoker.com, which earned the distinction of becoming the first site to deal a hand of real money poker in the state of Nevada. Ultimatepoker.com was launched at 12 pm EST on April 30th, and despite some early issues, has been successfully dealing millions of hands on a monthly basis. As a matter of fact, Ultimate Poker celebrated their 10 million hand milestone a few weeks ago.
During the Q2 earnings call that the company hosted earlier today, Station Casinos LLC Executive Vice President and CFO Marc Falcone revealed that the Ultimate Poker operations have "exceeded" expectations so far. The results from Ultimate Poker helped contribute to an "impressive" quarter at Station Casinos LLC, as the company reported earnings of $7.3 million on revenues of $316.6 million in the second quarter.
During the earnings call, Station Casinos LLC also revealed that they are "well prepared" to launch in New Jersey once they receive regulatory approval in the state. Station Casinos LLC has already signed an online gaming operations agreement with Trump Taj Mahal Associates LLC.
--
UltimatePoker.com has been running without any competition for the first few months of its existence. It will be interesting to see how they do once some of their major competitors start coming online in Nevada.
Source:
Station Casinos LLC Q2 Earnings Release
--
Filed Under:
Online Poker Rooms